AEW European Property Outlook
We are delighted to share with you our first European Property Market Outlook for 2018. At AEW we are supported by a global in-house research capability which is fully integrated at every level of the decision making process. The role of the research team is critical in designing and implementing the right strategies and ultimately delivering performance for our investors in these uncertain times and challenging market conditions. In this report we have provided an overview of current market conditions and have updated our market scoring analysis using our in-house forecasts. We highlight the strategies that we believe will deliver outperformance over the medium term based on this market scoring. We have also considered the likely impact of market changes such as the growth of on-line retail as well as analyzing the current state of the debt markets in Europe. We hope that you will find this European Property Market Outlook interesting and we look forward to continuing to identify new investment opportunities for our investors.
RISK AND RETURN SCORE (BUBBLE SIZE REPRESENTS LIQUIDITY SCORE)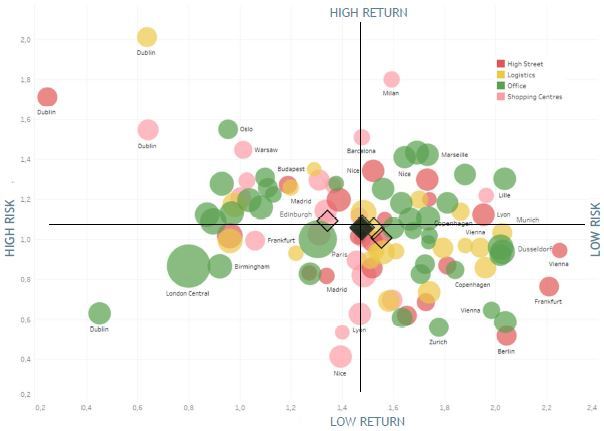 Source: AEW
EXECUTIVE SUMMARY: FUNDAMENTALS DRIVING FEARS AWAY
With recent political uncertainty and the prolonged unwind of the GFC, focus remains on downside risks
Our outlook shows robust economic fundamentals are driving occupier and investment markets in a positive direction over the next 2-5 years, with little risk on new supply, rising interest rates and leverage
Occupier markets are showing better market rental growth as new supply remains modest and net absorption steps up with improving consumer spending and employment growth. E-commerce is a key driver for both the bifurcation in the retail markets and the new record take-up across logistics.
With the recovery in capital values and tightening of yields across the most liquid core investment markets, investors should consider adjusting their focus for the medium term to:
Consider a broader range of European markets, as implied by our market scoring
Focus on income returns, as marginal yield widening and limited upside in capital value is projected
Given the low systematic market risks at the moment, expand into value creation assets
The information and opinions presented in this research piece have been prepared internally and/or obtained from sources which AEW believes to be reliable; however, AEW does not guarantee the accuracy, adequacy, or completeness of such information.