STRONG TECH SETS NEW RECORD OFFICE TAKE-UP AND PUSHES RENT UPWARDS
The growing importance of the tech sector in the European economy is undisputed and best captured in the outperformance of tech-stocks, especially since 2015. In fact, relative to the overall stock market index, European tech stocks have done better than their US counterparts.
On the back of this sector outperformance, job creation in the tech sector pushed its take-up of offices space to a record of 2 million square meters or 17.5% of total in 2018 across 21 European markets.
When testing the tech related office take-up impact on rents, we show that over the long term and on an aggregate level when the share of tech in total take-up increases, rental growth is in fact higher with a correlation of above 50%.
Also, we show a positive correlation between tech-take up and rental growth over the last 3 years for local markets, albeit some outliers including London distort the effect (mainly as rental growth is affected by Brexit uncertainty).
Finally, a granular deep-dive in the Paris office market shows that tech-take up concentrates in clusters among sub-markets in Paris. Although we use granular data, we find no clear relationship between tech-take up and rental growth over the last 5 years.
NEW RECORD TAKE-UP CONFIRMS TECH SECTOR AS LONG TERM DRIVER OF EUROPEAN OFFICE SECTOR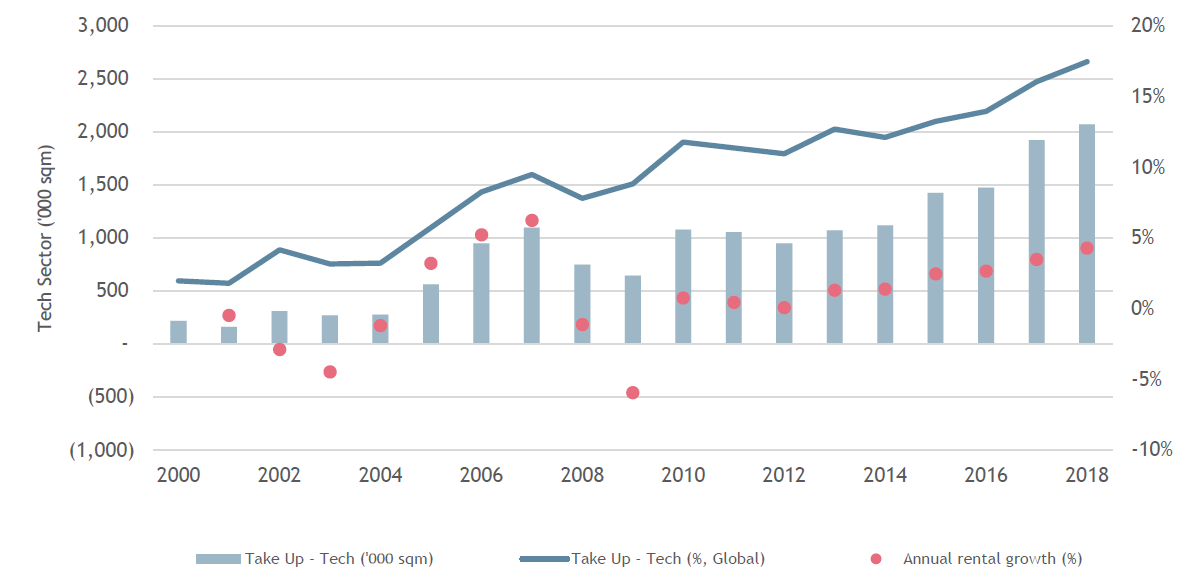 Sources: CBRE & AEW
The information and opinions presented in this research piece have been prepared internally and/or obtained from sources which AEW believes to be reliable; however, AEW does not guarantee the accuracy, adequacy, or completeness of such information.