Seniors Housing Research Perspective
The seniors housing sector entered the current Covid-crisis from a position of relative strength. Occupancies had been holding steady at just above 87.5% over the past two years with supply and demand in relative balance. Rent growth was maintained near 2.5% and new construction starts continued to recede while absorption reached a new historical high in the first quarter highlighting the underlying strength of demand. Capital markets were liquid with plenty of dry powder for new investment and transaction volumes were running more than 30% ahead of last year's pace through the first quarter. Overall, stabilized cap rates averaged in the mid-5% range with development yields running 200-225 bps higher.
Since about mid-March, the dynamics have shifted. As is the case for other real estate assets, stay-in-place and other social distancing mandates have weighed on operating performance. Prospective resident traffic is down materially with most tours being provided in a virtual setting. While communities are taking deposits, most instituted moratoriums on new residents move-ins or implemented very strict move-in protocols requiring various degrees of quarantining all of which are weighing on occupancies. On the construction front, the sector avoided building moratoriums given its essential status, but limitations on work crews have generally extended development timelines. Projects in pre-construction are being put on hold or are being re-evaluated in the current environment, especially those lacking financing.
Second quarter statistics across the primary and secondary markets tracked by the National Investment Center for Seniors Housing and Health Care (NIC) reflected the impact of Covid-19 as occupancies dipped 260 basis points during the quarter to 85%. This drop has been slightly more pronounced in the primary major markets as well as in the higher acuity sectors, most notably memory care. While not part of AEW's investment universe, nursing homes have been particularly hard hit. April showed the most dramatic downward shift in seniors housing occupancy with May and June experiencing a slowing pace of decline. Depending on the market, communities began accepting new move-ins which helped slow the pace of decline. A material drop in demand during the second quarter offset gains from the previous three quarters resulted in a slight dip in annual net absorption (0.2%) while new inventory growth slowed but still expanded 2.7% relative to year-ago levels as projects previously under construction delivered. New projects breaking ground took another material step lower to roughly 60% of year ago levels in the first quarter and about 25% in the second quarter dropping the annual pace of starts (share of existing inventory) to 2.1%. While Research views current quarter (2Q) construction starts as preliminary, the trend clearly points to further slowing even after adjusting for expected revisions, a net positive for supporting occupancies and rent growth over the mid-term horizon.
Overall, the current environment remains quite fluid with the near-term impacts on seniors housing and the broader economy still inherently tied to the path of the virus and specifically the ability to accept and/or attract new residents. Consistent with the broader CRE market, transaction activity started slowing materially in the second quarter and remains in a holding pattern with only a few select deals moving forward. A weaker economy in general will pose its own set of challenges but the sector has proven to be recession resilient in the past. While the sector is being hit hard in the current downturn, there will likely be some positive benefits. Labor availability and wage pressures should improve in an economic environment where unemployment rates move higher. A pullback in new construction, as noted earlier, should reduce competition from new supply supporting operating fundamentals that push rents and occupancies higher. Near-term, there are signs of pent-up demand, especially in the more needs-based segments. While many of the long-term demand tailwinds also remain solidly in place in the current environment, it has performed well to-date and the underlying demographics and shifting family dynamics that support longer-term demand remain steady.
CUMULATIVE SENIOR HOUSING TRANSACTION VOLUME: $BILLIONS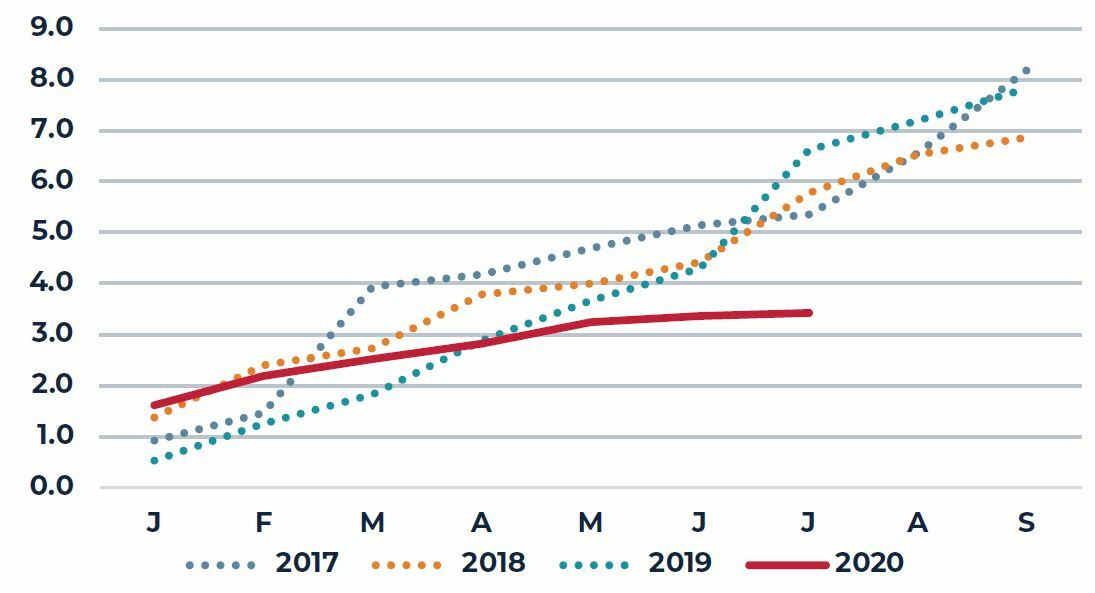 Source: Real Capital Analytics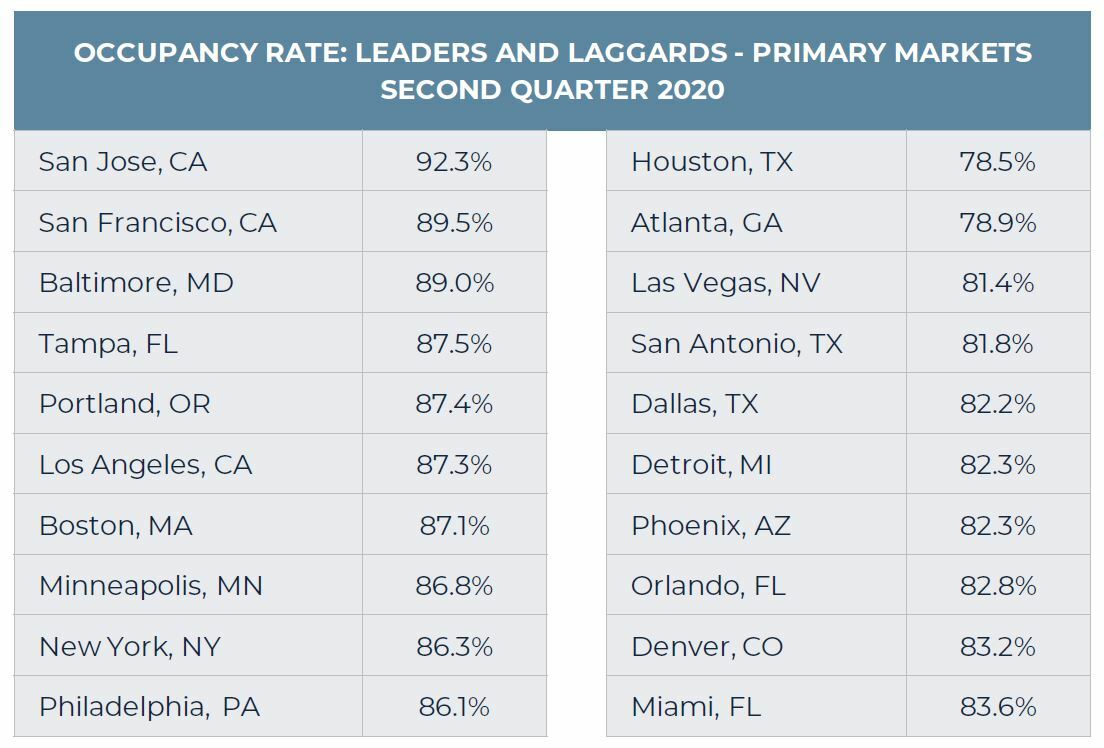 Source: NIC Map Data Service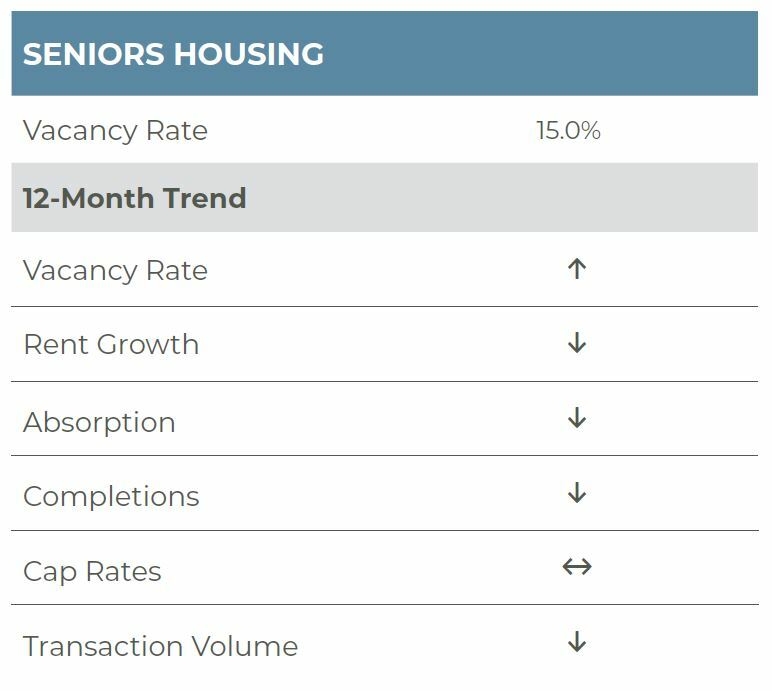 The information and opinions presented in this research piece have been prepared internally and/or obtained from sources which AEW believes to be reliable; however, AEW does not guarantee the accuracy, adequacy, or completeness of such information.