HOW WILL REAL ESTATE DO IN THE UNCERTAIN TIMES AHEAD?
As the global political uncertainty has started to impact on business confidence, European real estate yields have remained near or at historical lows. With many government bond yields at negative levels and record lows, significant excess spread is available in real estate. Increasing trade frictions and political uncertainties both globally as well as in Europe, have further slowed economic growth. This slowdown has already triggered rate cuts from the Federal reserve and other central banks triggering government bond yields to remain lower-for-much-longer. With this backdrop, we update our risk-adjusted return approach to answer the challenging question posed by many: "What will real estate returns look like in the uncertain times ahead?"
OECD BUSINESS CONFIDENCE INDEX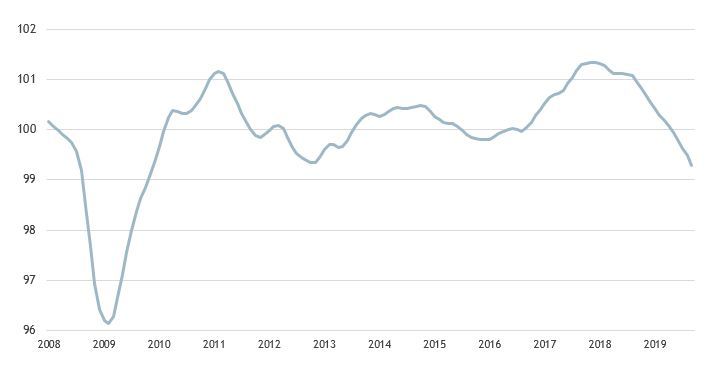 Source: OECD & AEW

EXECUTIVE SUMMARY: LOWER-FOR-LONGER OFFERS EXTRA TIME
With lower-for-longer government bond yields and economic growth expected to keep both rental growth and prime property yields low for the next five years, the European property market cycle has been extended into extra time.
Despite lower rental growth expectations, our latest risk-adjusted return approach identifies nearly 80 of our 100 covered commercial real estate market segments as attractive or neutral, as capital values keep stable.
This benign outlook allows investors extra time to focus on their adoption of the wide range of new ESG targets and regulations as well as to take advantage of new technologies to improve their customer offering and their operational efficiency.
The favorable general market outlook is further supported by a low level of the traditional cyclical market risks as both excessive supply of new space and the use of debt remain modest at the moment.
Finally, investors can take advantage of opportunities in value-add with UK retail, core plus development deals in urban logistics and core funds, including funds targeting private real estate debt.
BASE CASE - EXPECTED AND REQUIRED RETURNS FOR 100 PROPERTY TYPE SEGMENTS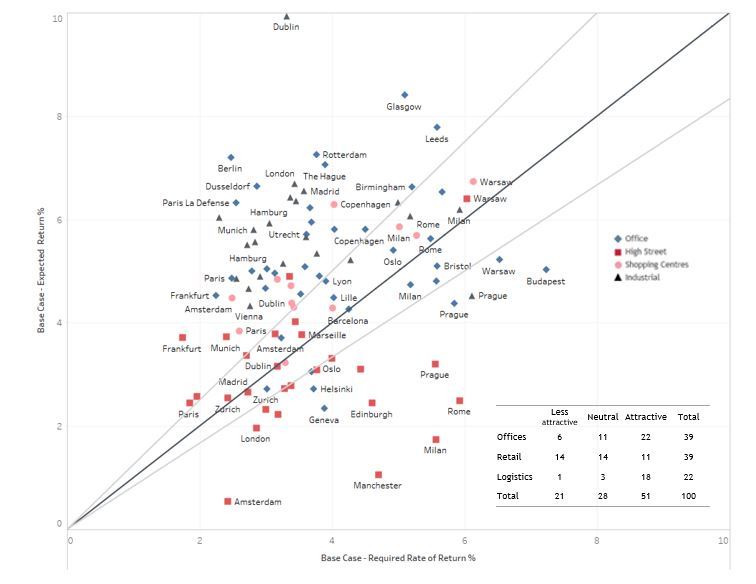 Sources: CBRE, RCA, MSCI, Oxford Economics, Natixis & AEW


READ THE FULL REPORT
The information and opinions presented in this research piece have been prepared internally and/or obtained from sources which AEW believes to be reliable; however, AEW does not guarantee the accuracy, adequacy, or completeness of such information.