This paper is a review of the Asia Pacific logistics market. AEW believes there are several key drivers that are increasing investor interest in the sector, and COVID-19 has accelerated many of these. Simply put, the structural shifts driving the region's consumption patterns forward persist, but adoption of online shopping has leapt forward four years while the rate of future growth remains largely unchanged. Higher yields are offering attractive income returns in a "lower for longer" environment and capital gains could be made through both income growth and yield firming.
Asia Pacific's Key Trends To Persist
Several key growth drivers1 for logistics demand are set to endure. These range from regional trade flows, higher consumer spending and strong e-commerce growth.
ASIA PACIFIC IS HIGHLY INTEGRATED
Asia doing more business with itself: The region trades more with itself than with other regions, a change from a decade ago. To facilitate intra- and inter-regional trade, countries continue to actively reduce trade barriers by advancing multilateral agreements e.g. CPTPP, RCEP2 as well as FTA's3.
MORE PEOPLE AND HIGHER DISCRETIONARY SPENDING
Rapid consumer spending growth: In the decade ending 2019 total consumer spending rose 28% and is forecast to rise by another 17% in the following decade (2020-2029).
More consumers and higher spending power: In the ten-years to 2029, total disposable income is forecast to grow 14%. About half of this is due to higher incomes while the balance is due to population growth.
Asian cities are some of the most densely populated: Seoul has about 16,000 people per sq. km while Singapore and Hong Kong have about 7,000 to 8,000 people per sq. km. These compare to London (5,500 per sq. km) and New York (10,700 per sq. km). High density allows for much more efficient e-commerce delivery networks.
UBIQUITOUS USE OF TECHNOLOGY AND ACCESS TO E-COMMERCE
Shopping anywhere anytime: The growth of online sales has been enabled by the ubiquity of both internet access and smart phones.
Almost everyone has in-pocket shopping devices: There are more phones than people (1.6 per person) and the number of phones (per 100 people) is forecast to grow 6% over the next five years. By 2025 the region will have 2.7 billion mobile internet users (over 61% of the population). Online sellers have responded with significant investment to improve the buying experience.
SPENDING FROM THE ASIA PACIFIC CONSUMER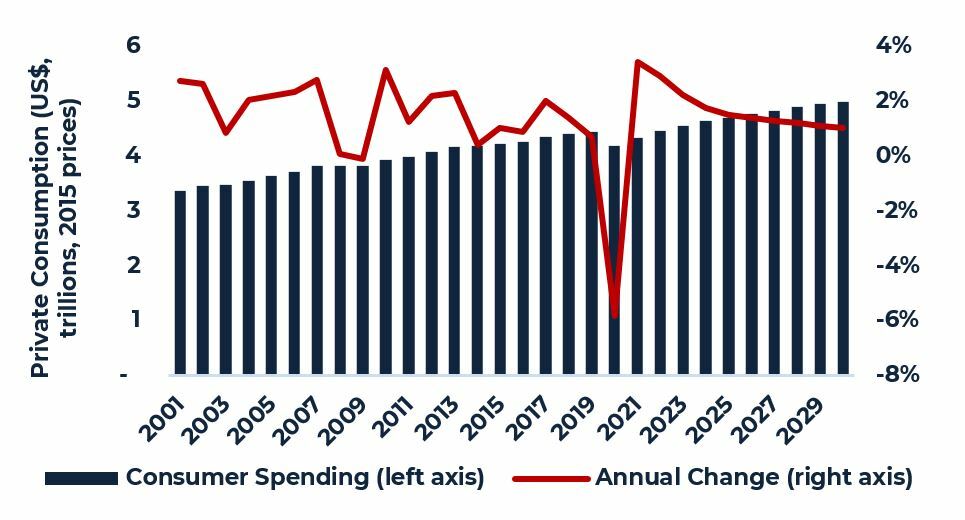 Source: Oxford Economics


HOUSEHOLD DISPOSABLE INCOME GROWTH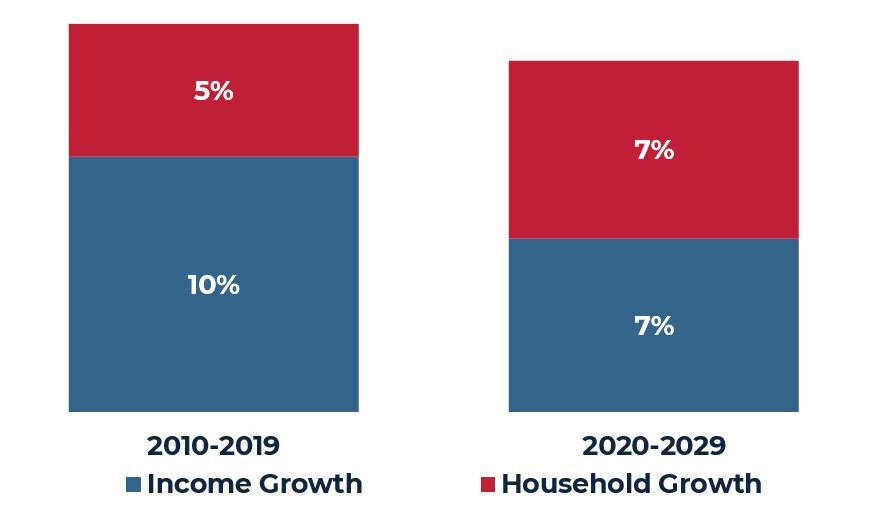 Source: Oxford Economics

ASIA PACIFIC MOBILE INTERNET USERS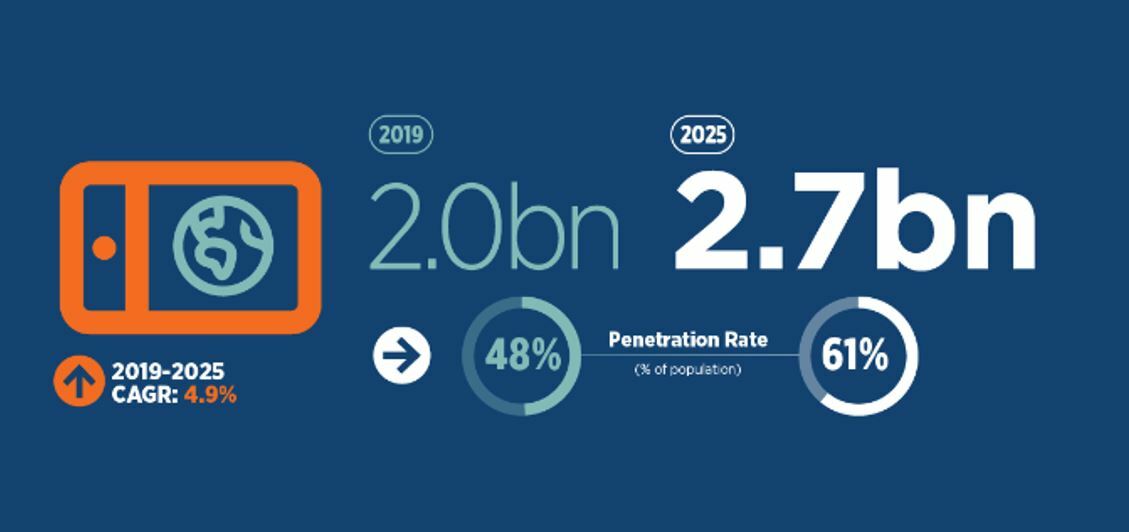 Source: GSM Association
1 This report covers the Japanese, Korean, Hong Kong, Singapore and Australian markets unless otherwise noted.
2 CPTPP is Comprehensive and Progressive Agreement for Trans-Pacific Partnership, RCEP is Regional Comprehensive Economic Partnership.
3 Free Trade Agreements between two countries
COVID-19's Impact
THE PANDEMIC IS LEADING TO UPSIDE
Relative winner: While logistics hasn't been immune to the disruption caused by COVID-19, the sector is experiencing more supportive demand drivers compared to retail or office. Since COVID-19 started, demand conditions have improved prior to its emergence.
Four years of demand growth in six months: Forecasts for the online share of retail sales has been substantially marked up; 2024 penetration rates have been brought forward to 2020. AEW expects online sales growth to continue and to drive space requirements from 3PL's, retailers, grocery retailers, pharmaceuticals and medical products etc.
A cold way forward: AEW believes there will be sustained demand for cold chain logistics facilities. It will come from both traditional retailers and online fresh-goods sellers, as they strengthen their rapidly growing fresh food delivery service. Not only will there be more dry and cold/chilled grocery sales online, but there is also increasing demand for pre-packed meal kits and prepared meals. For example, in Korea, online Food Services sales had a CARG of 96% between 2017 and 2019. In Australia online food retailing was up 23% in 2019 and 42% in Jan-July 2020 y-o-y.
Bringing supply chains closer: After finding cross-border "just-in-time" networks disrupted by COVID-19, many organizations are exploring "just-in-case" models. By shortening supply chain networks, through re-, on- or near-shoring, or holding more inventory in destination markets, supply chains can become more agile. These altered supply chains may provide a competitive advantage by offering stability of service. AEW believes this can be a positive for logistics and warehousing demand.
ONLINE SALES' SHARE OF TOTAL RETAIL SALES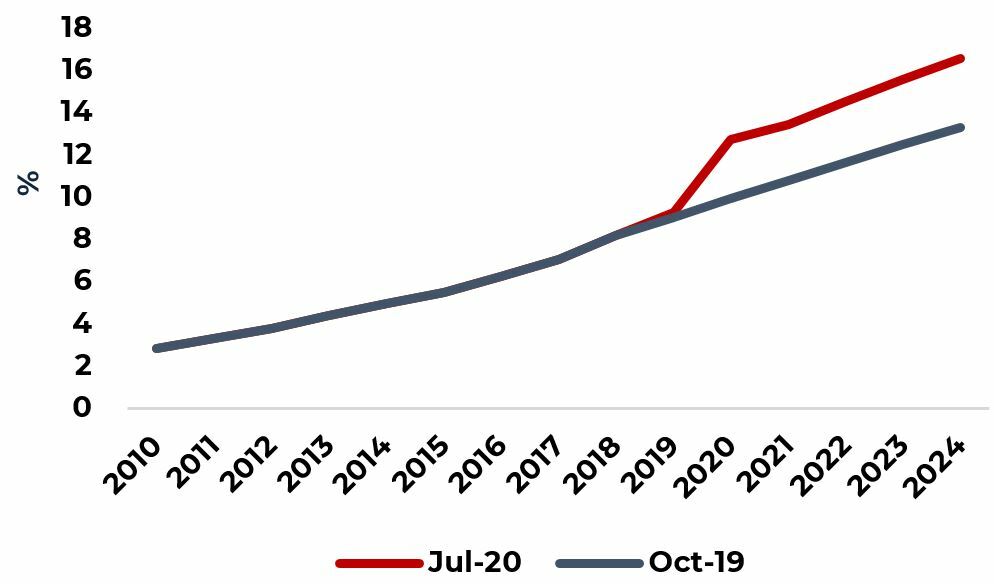 Source: PMA
ONLINE FOOD RETAIL SALES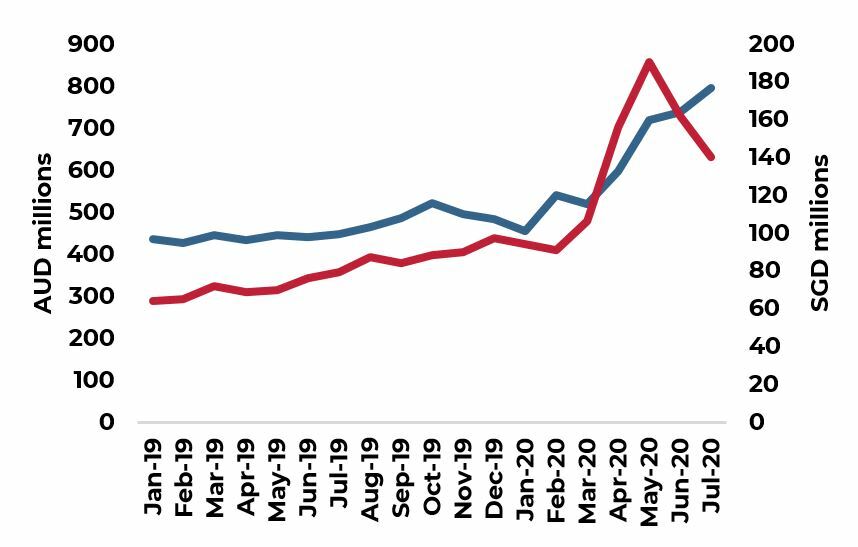 Source: Australian Bureau of Statistics, Department of Statistics
ASIA PACIFIC IS ADVANCED IN RETHINKING SUPPLY CHAINS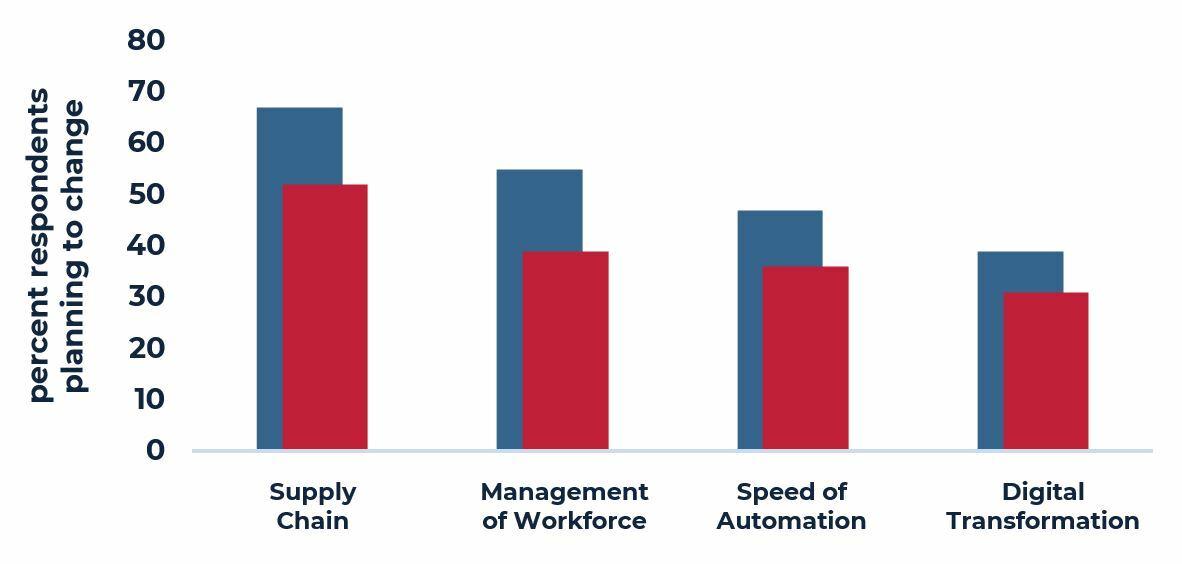 Source: EY Capital Confidence Barometer
Features of the Property Market
AEW believes the Asia Pacific logistics sector has come of age and offers investors a compelling investment opportunity.
IS THE REGION UNDER SUPPLIED?
Lack of modern stock: There is a dearth of space ideally suited to high throughput e-commerce demand. Region wide it is estimated only 20% of total stock is considered modern. But it ranges widely, from very low in Japan (circa 5%) to the 'majority' of space in Australia (JLL).
Strong logistics demand: Typically, e-commerce firms use three times more logistics space than physical stores (storage for a wider product range and operations space including reverse logistics). Another 'rule of thumb' is a USD one billion increase in e-commerce sales translates into 1.2 million sq. ft. of logistics demand. Using a publicly available estimate of e-commerce sales growth, AEW estimates logistics demand of about 175 million sq. ft. per annum through to 2024<sup>4</sup>. 2020's supply forecast is a historic high, but only 167 million sq. ft.
KEY INVESTMENT FUNDAMENTALS
Attractive income returns: Logistics offers investors an attractive income return with an average yield of about just under 5%, which compares to office of around 3.5%. Comparisons to other global gateway markets suggests this office to logistics spread has room to narrow to around 50 to 90 basis points. It is also interesting to note European logistics yields are already below office.
Increasingly institutional: There has been a step forward in the institutionalization of the sector. This can be evidenced by the increase in transaction volume and a lowering of the required liquidity premium. The region has also attracted a substantial amount of capital for logistics funds, 37% (USD 18 billion) of the global logistics capital raised in the five-years 2015 to 2019.
Logistics allocations have risen: The ANREV ODCE (Open End Diversified Core Equity) Fund Index is a good indicator of long-hold portfolio allocations. As of Q2 2020, industrial/logistics is the second largest allocation at 26%. This contrasts to two years earlier when the allocation was 19%, behind retail at 28% (Q2 2018).
Lower return volatility: AEW's analysis of total return's indicates logistics has attractive attributes such as lower volatility and higher returns than office and retail. While retaining a focus on targeting the regions consumption growth but shifting from retail to logistics can lower a portfolios overall volatility and improve returns.
4 Source: Statista. Includes all Asia Pacific and measures B2C market
LOGISTICS TRANSACTION VOLUME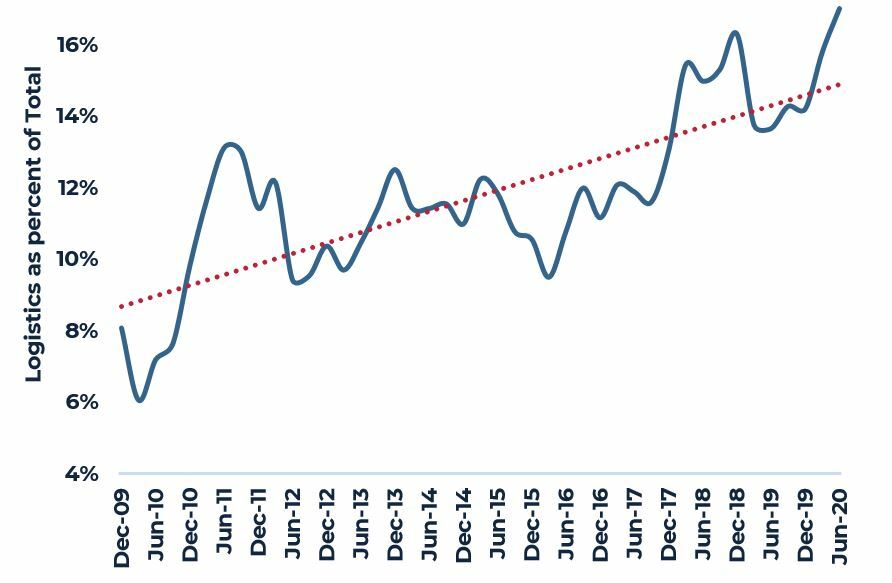 Source: Real Capital Analytics
INDUSTRIAL/LOGISTICS FUND CAPITAL RAISING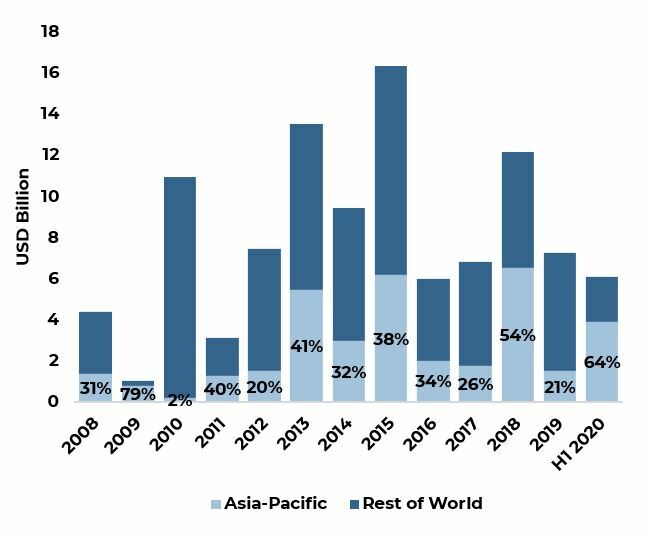 Source: PERE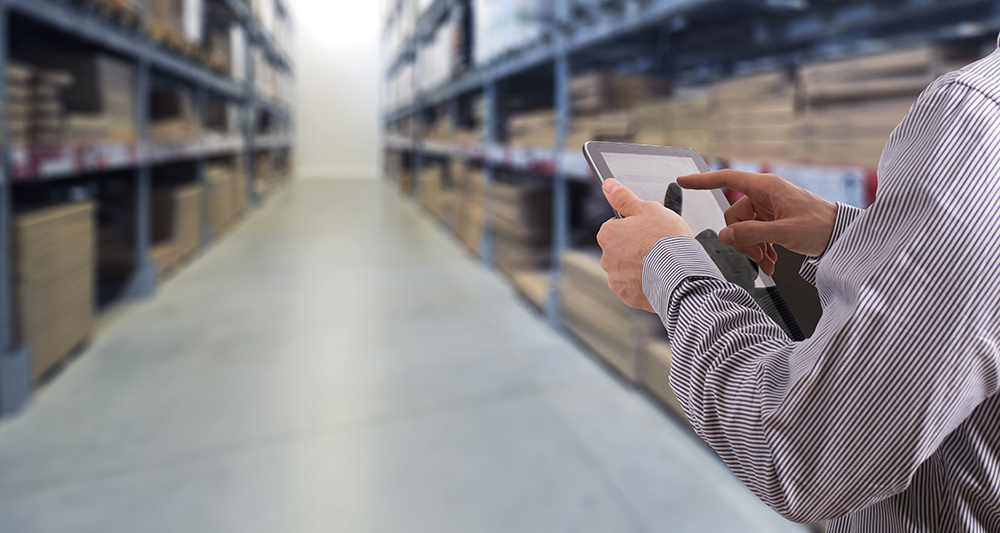 An Investment Path Forward
We believe there will be several interesting investment routes. The sector offers long-hold, income focused opportunities as well as opportunities for return-seeking capital.
KEY ATTRIBUTES
Location, Location, Location: Location is always important, and is especially true for logistics assets. Outer city districts offer lower land and occupational costs but up to two thirds of 3PL costs are transport related. In addition, occupiers carefully consider proximity to labor pools when deciding the location of their operations. Balancing this, urban submarkets tend to have older stock. Lastly, access to transport infrastructure can be critical and with recent investment in some countries, new areas are opening up.
Inner city, last mile: There will be an increase in demand for sites that can act as inner city, last mile, near to customer fulfillment centers as consumer expectations for shorten delivery times are embedded. This applies to both dry and cold facilities. For example, Korea's dawn delivery is reshaping its grocery delivery market5.
Income investment: The region offers opportunities to find long lease assets to creditworthy tenants. For long-hold investors this provides regular distributable income and diversification which should contribute to lower portfolio volatility and risk.
Return seeking investment: With a relatively low amount of modern quality stock there are opportunities to create better fit-for-purpose assets either through upgrades or development. Additionally, converting some dry space to cold use may create opportunities to meet occupier requirements more closely and charge higher rents.
ANREV ODCE INDEX BY SECTOR, Q2 2020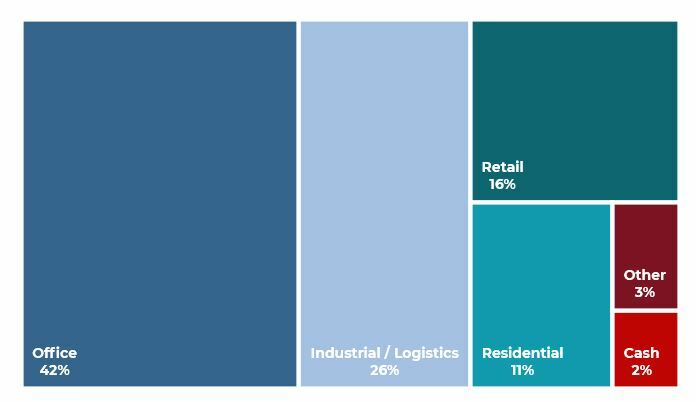 Source: ANREV, Q2 2020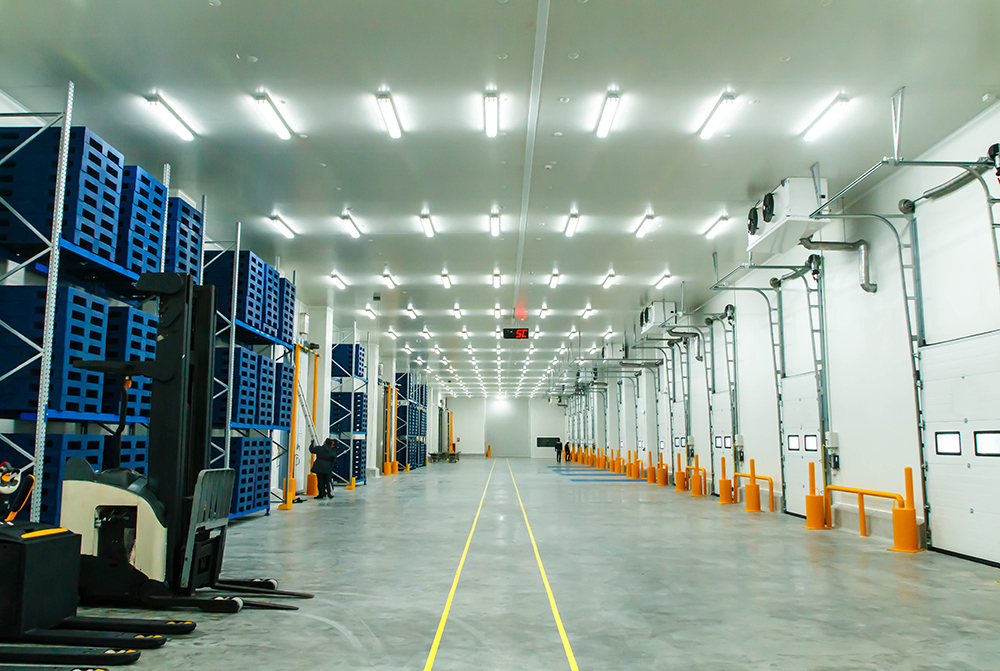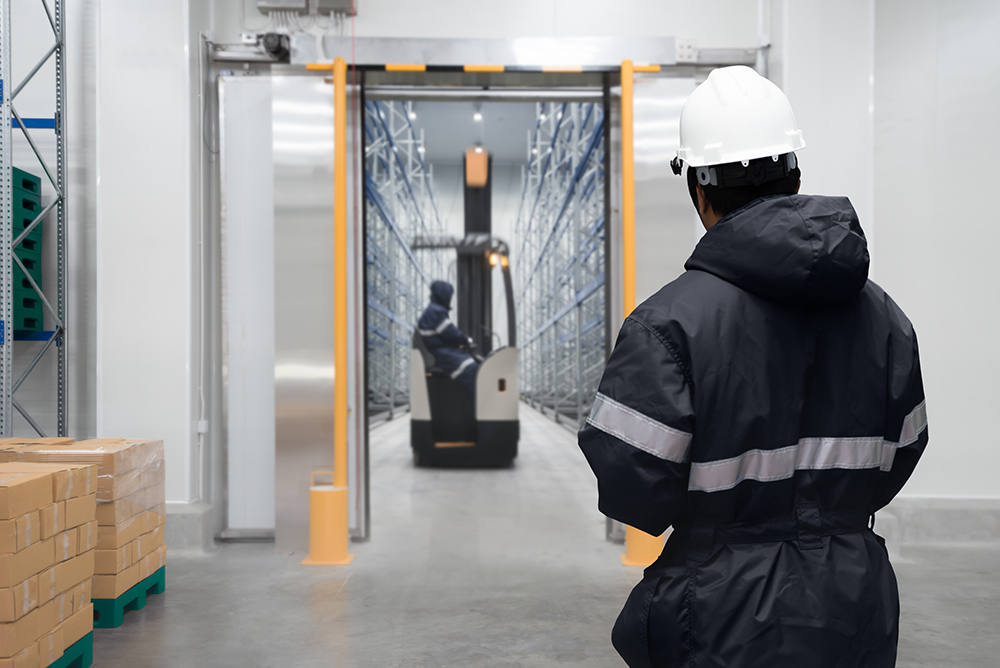 ---
Please do contact us if you would like to learn more about our analyses of the property markets in the Asia Pacific region:
Contact:
GLYN NELSON
Director of Research, Asia Pacific
glyn.nelson@aew.com
+65.6303.9016
HANNA SAFDAR
Research Associate, Asia Pacific
hanna.safdar@aew.com
+65.6303.9014
ANNA CHEW
Investor Relations, Asia Pacific
anna.chew@aew.com
+852.2107.3511
This material is intended for information purposes only and does not constitute investment advice or a recommendation. The information and opinions contained in the material have been compiled or arrived at based upon information obtained from sources believed to be reliable, but we do not guarantee its accuracy, completeness or fairness. Opinions expressed reflect prevailing market conditions and are subject to change. Neither this material, nor any of its contents, may be used for any purpose without the consent and knowledge of AEW.