WEEK OF 25 MAY 2020
AEW INVESTS IN THE KEY STRATEGIC CITIES OF ASIA PACIFIC
"Asia Pacific has emerged as a bright spot and is expected to lead the global economic recovery." - AEW Research, Asia Pacific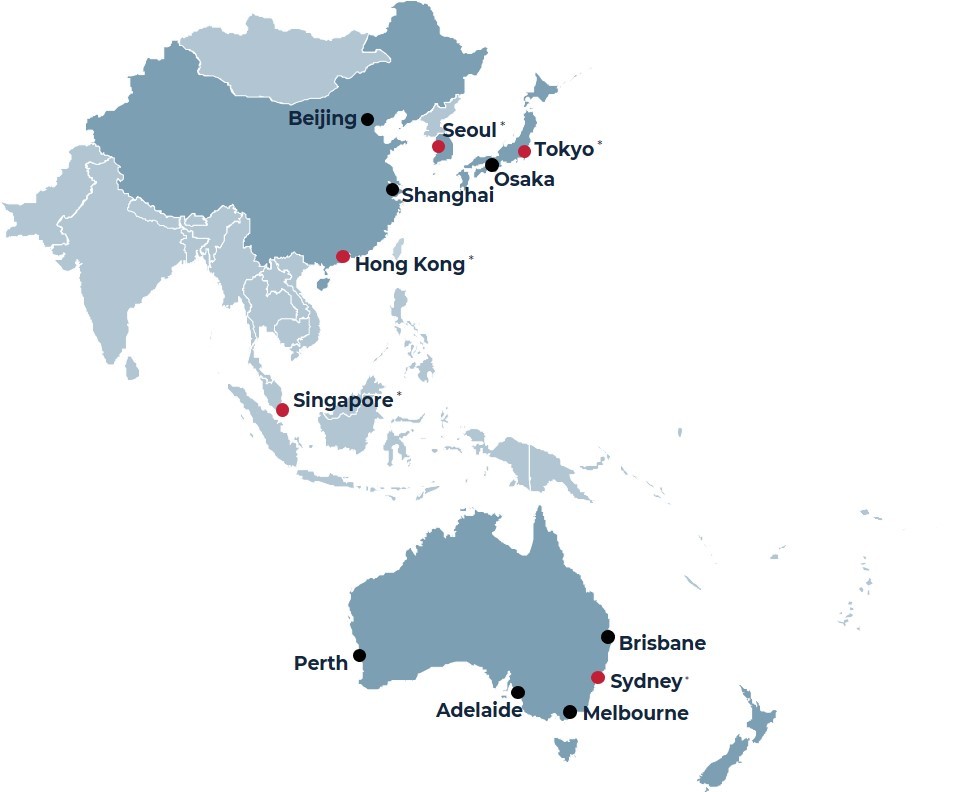 *Indicates AEW presence
ASIA PACIFIC IS PAST THE PEAK IN COVID-19 CASES
Major Asia Pacific countries have had success in controlling the spread of COVID-19
By mid-May, no Asia Pacific country was in the global top 10 of COVID-19 cases
Uncertainty regarding the return-to-normal has been rolled back with some countries further ahead in the process and setting good guidance

Source: World Health Organization and other government sources, May 19, 2020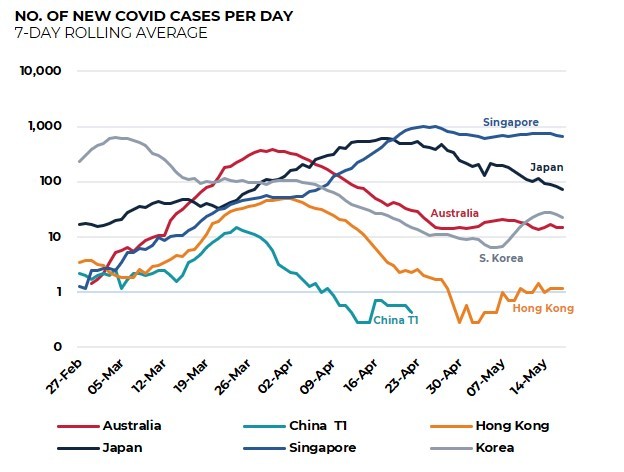 SEQUENTIAL ECONOMIC RECOVERY FROM Q3 2020
Asia Pacific is expected to lead the global economic recovery
Most major markets are expected see a reversal in contractionary trends by Q3
"Heartbeat" recovery is possible, supported by generous fiscal and monetary policy

Stimulus packages in the region to-date range between 5% to 20% of GDP
Federal governments in Australia have begun to communicate second phase of policies to restore growth and employment
China is expected to announce further stimulus policies at the National Congress Meeting on 22 May 2020
ASIA PACIFIC 2020 QUARTERLY GROWTH PROJECTIONS
Q1 2020 TO Q4 2020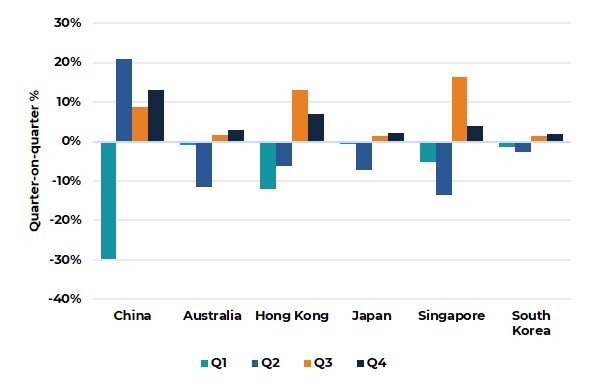 Source: Oxford Economics, May 19, 2020
ASIA PACIFIC IS REOPENING
Workplace mobility reports indicate a number of Asia Pacific economies are reopening with China, Hong Kong and Australia leading
How is Asia Pacific [re]opening?

Gradual and phased
Clear guidance on new safety and health standards
Domestic travel allowed, expect intra-Asia Pacific travel corridors to be established in the coming months
PACE OF "RETURN-TO-NEW-NORMAL" IN MAJOR MARKETS

Source: AEW Research, Google Mobility Report, 19 May 2020
SLOWER TRANSACTION MARKET BUT PIPELINE IS ACTIVE
Activity is down substantially from the same period last year, but transactions are continuing to take place
Domestic activity is leading, either by local capital (including end-users) or foreign investors with local teams or partners
Some buyers and sellers are taking a wait-and-see approach. Price gaps have put a pause on a number of deals and as a result price discovery is limited
Current deal pipeline for Asia Pacific stands at $30 billion, about half of which are in the major gateway cities. Some of these deals will go into settlement soon, helping to lift volumes in second half of the year
GATEWAY MARKET TRANSACTION VOLUME
2016 to MAY 2020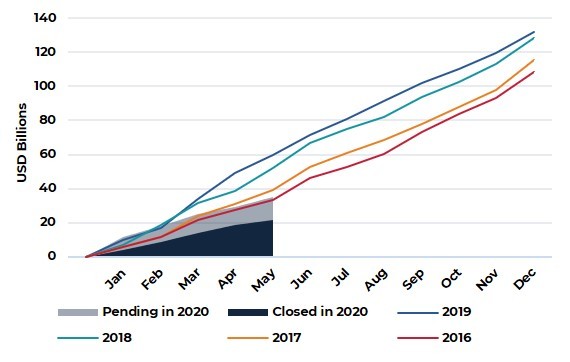 Source: RCA, as of 19 May, 2020 Note: Gateway markets include the following 10 cities - Beijing, Brisbane. Hong Kong, Melbourne, Osaka, Seoul, Shanghai, Singapore, Sydney and Tokyo.
ASIA PACIFIC REAL ESTATE MARKETS – VARIABILITY BETWEEN MARKETS AND SECTORS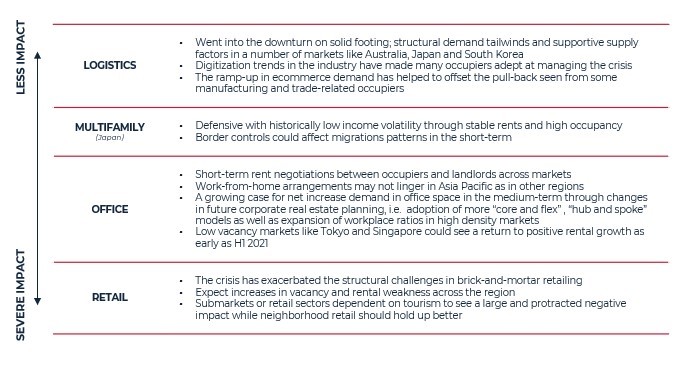 This material is intended for information purposes only and does not constitute investment advice or a recommendation. The information and opinions contained in the material have been compiled or arrived at based upon information obtained from sources believed to be reliable, but we do not guarantee its accuracy, completeness or fairness. Opinions expressed reflect prevailing market conditions and are subject to change. Neither this material, nor any of its contents, may be used for any purpose without the consent and knowledge of AEW.