WEEK OF 20 APRIL 2020
AEW INVESTS IN THE KEY STRATEGIC CITIES OF ASIA PACIFIC
The region's key long-term investment attributes remain in-place:
Economic Growth & Business Expansion -Infrastructure Investment
Increasing Connectivity
Virtuous Cycle Between Income and Consumption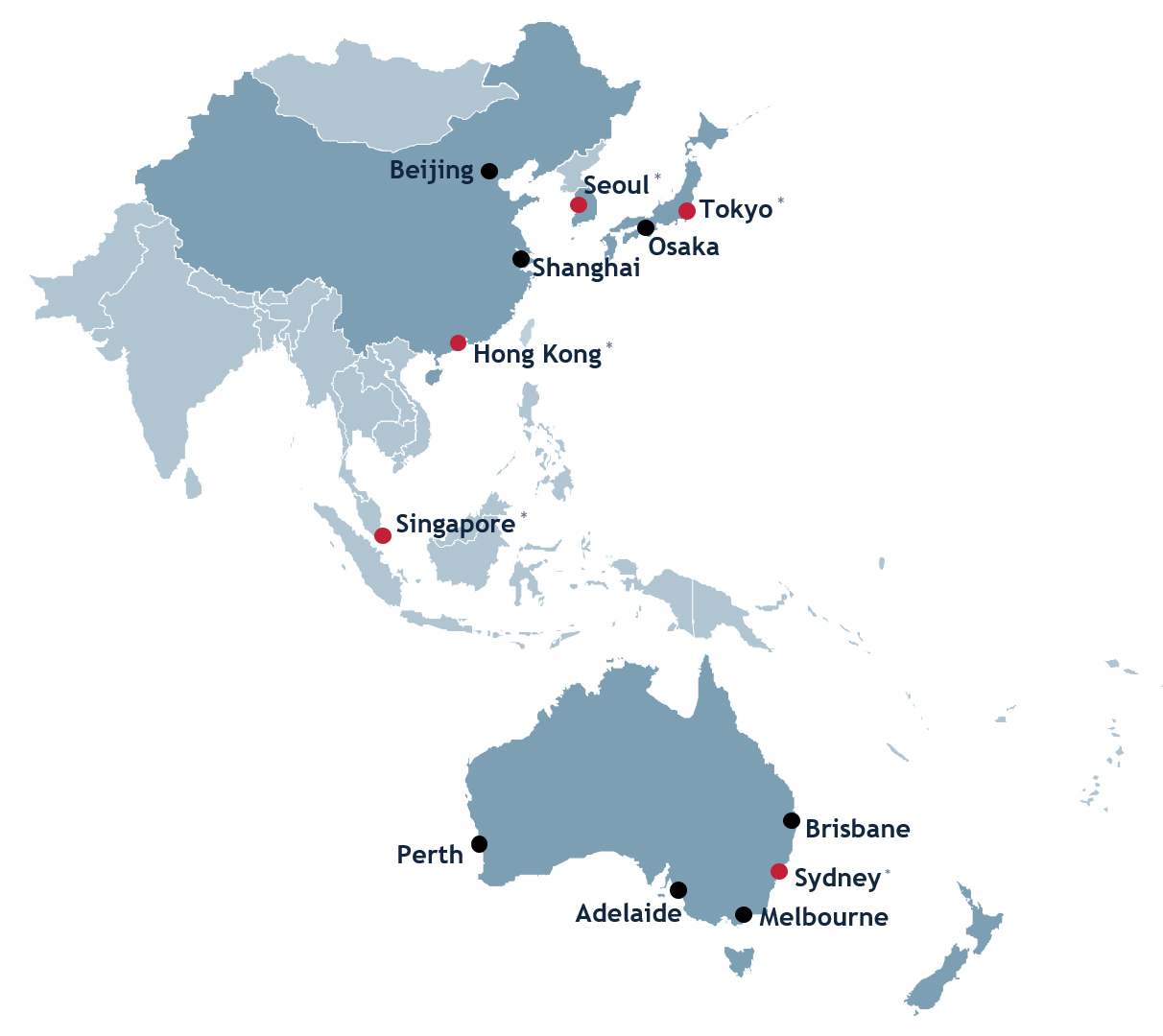 *Indicates AEW presence
ASIA PACIFIC COVID-19 CASE UPDATE
There are, or have been, social distancing and people movement restrictions in most of the region's key countries
As a result, a number of countries have had success in reducing the number of daily new cases
China was first-in and first-out
May see restrictions start to be rolled back in some places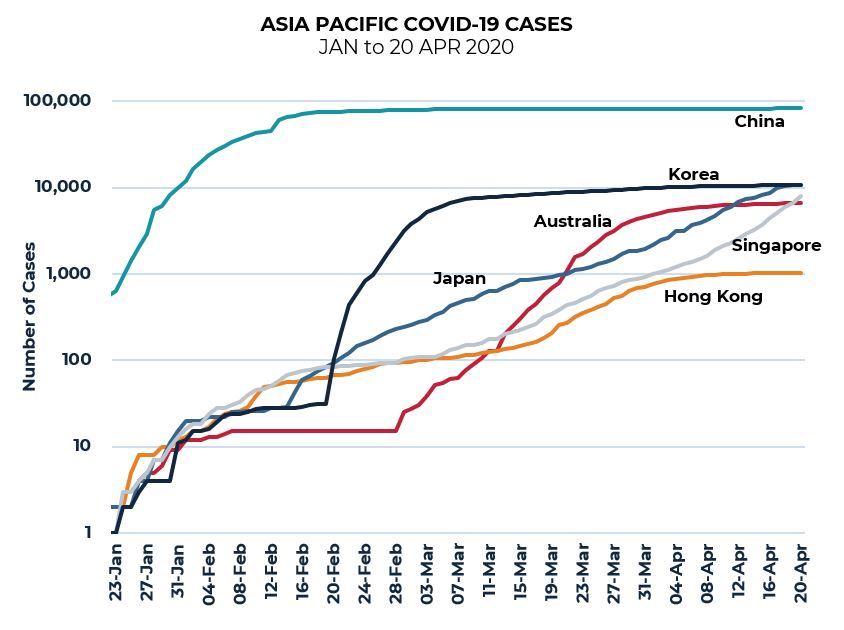 Source: World Health Organization and other government sources, April 20 2020
ECONOMIC PROJECTIONS
High degree of uncertainty in economic outlook
"Heartbeat" recovery is possible:
- Immediate and sharp contraction
- Followed by a period of stimulus led recovery growth
As restrictions are lifted, we should expect a phased return to work
Immediate stimulus is to support households, jobs and businesses
Second phase to focus on restoring growth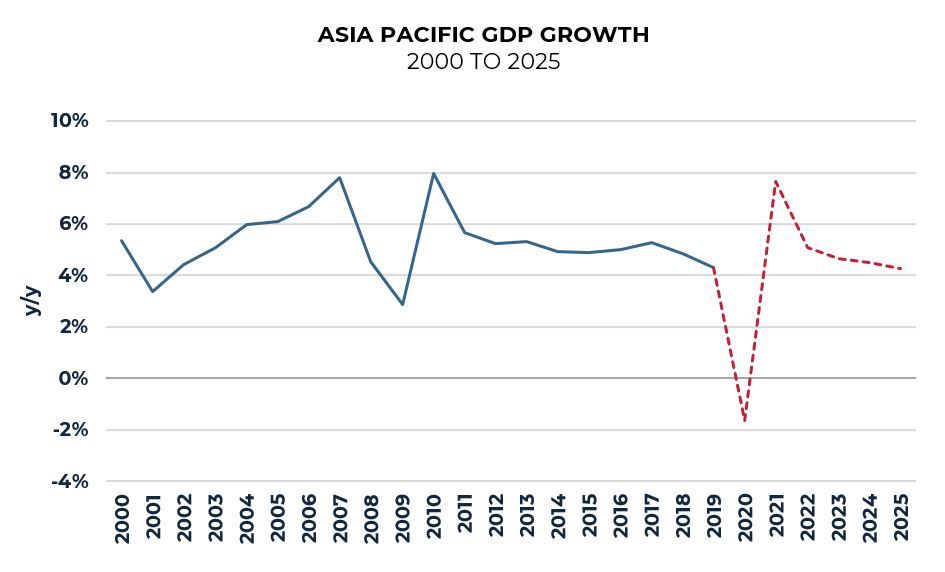 Source: Oxford Economics, April 20, 2020
CHINA'S RETURN TO WORK
After getting new COVID-19 cases under control, China went back to work quickly
Many indicators, including congestion indices and residential property sales, point to the return of economic activity
Broadly, China is about 80% back to normal operations
Headwinds now are external, rather than domestic as major trading partners are in recession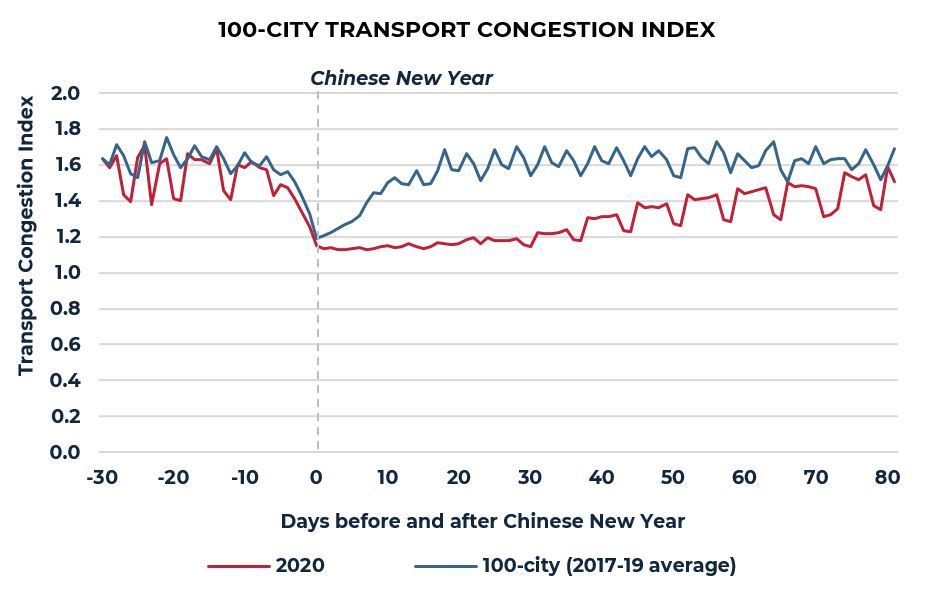 Source: UBS, 14 April 2020
RISK AVERSION - SALES MARKET HAVING A SLOW START TO THE YEAR
Transaction volumes are down substantially from the same period last year. Some deals originated prior to COVID-19 are concluding, many others are being put on hold or re-evaluated
Some buyers are taking a wait-and-see approach but the weight of investment capital remains high
Cross border interest is high, but limited deal progress due to travel restrictions
Domestic activity is leading, either by local capital or foreign investors with local teams or partners
Debt financing is generally available for good sponsors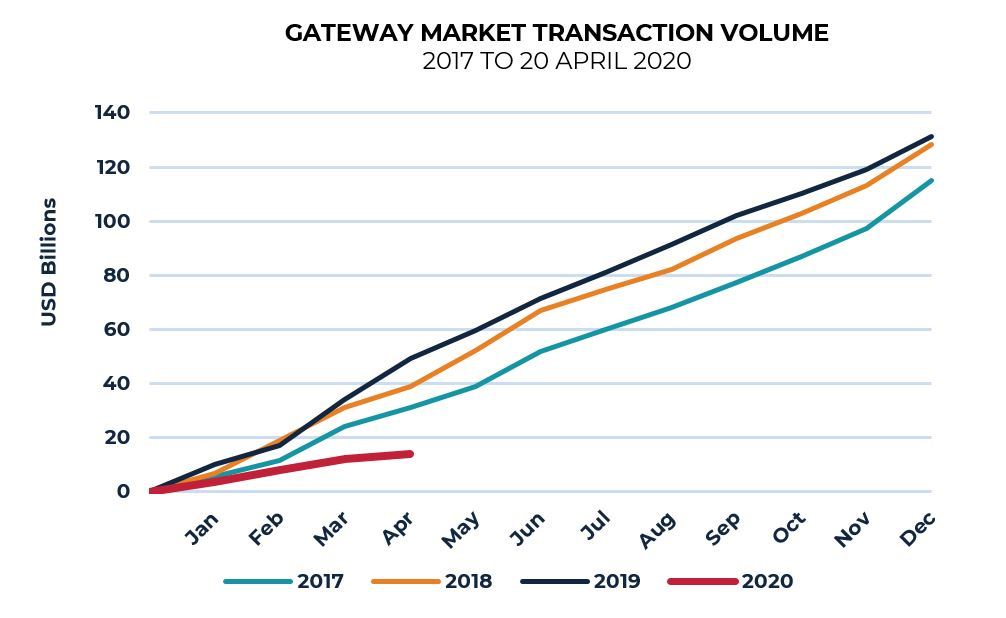 Source: RCA, as of 20 April 2020 Note: Gateway markets include the following 10 cities - Beijing, Brisbane. Hong Kong, Melbourne, Osaka, Seoul, Shanghai, Singapore, Sydney and Tokyo.
ASIA PACIFIC REAL ESTATE MARKETS - SHORT-TERM INCOME IMPAIRMENT
Multi-family and logistics sector to weather the COVID storm, office to bounce back once economy turns
Leasing momentum in some cities is being restrained by stay-at-home guidance
Renewal activity is expected to dominate occupational markets for the time being
Construction continues in Australia, China, Hong Kong and Seoul. It is being delayed in Singapore and Japan
Income is expected to be impaired this year due to uncertainty over rental collection and growth, there maybe some repricing as a result

This material is intended for information purposes only and does not constitute investment advice or a recommendation. The information and opinions contained in the material have been compiled or arrived at based upon information obtained from sources believed to be reliable, but we do not guarantee its accuracy, completeness or fairness. Opinions expressed reflect prevailing market conditions and are subject to change. Neither this material, nor any of its contents, may be used for any purpose without the consent and knowledge of AEW.