CORONAVIRUS SPECIAL UPDATE: KEEP CALM AND STAY HOME
Global economic growth expectations for 2020 have been adjusted significantly downwards amid the spreading of the COVID-19 virus and oil price decline. Based on this, at least some leading European economies are expected to go into recession in 2020. But, in contrast to the GFC, the current event-driven crisis could prove temporary as economic fundamentals were strong at its outset, possibly signalling a V-shaped recovery.
As a result of slowdown, many stock markets have dropped well over 30% from their recent highs while safe havens such as government bond yields have been volatile as well. Not all government bond yields move in tandem as observed in Italy and Spain. We also saw high yield corporate bond yields widen as investor have priced in more default risk.
To investigate the potential implications for the commercial property market, we take a closer look at previous bond and stock-market corrections' impacts on prime rents, investment volumes and prime property values and find that:
Market rents have typically declined when corporate bond yields have moved out, but investors are protected from these moves in the short term due to existing lease contracts, the basic need for space and credit of the tenants.
Commercial real estate investment volumes have historically responded with a delay to moves in the stock-market over the long-run. In the short term, we expect practical issues with site visits to temporarily slow down activity.
Prime capital values have typically also responded to stock market moves over the long-run. This means that if stock markets remain where they are now, we expect values to come down - albeit more slowly than stocks.
The long term repercussions on real estate remain uncertain as it is unclear how long exactly this global public health crisis will last. Many policy makers are still announcing significant new fiscal and/or monetary stimulus as well as temporary guarantees and tax breaks to limit the impact of the virus on consumers, businesses and banks alike.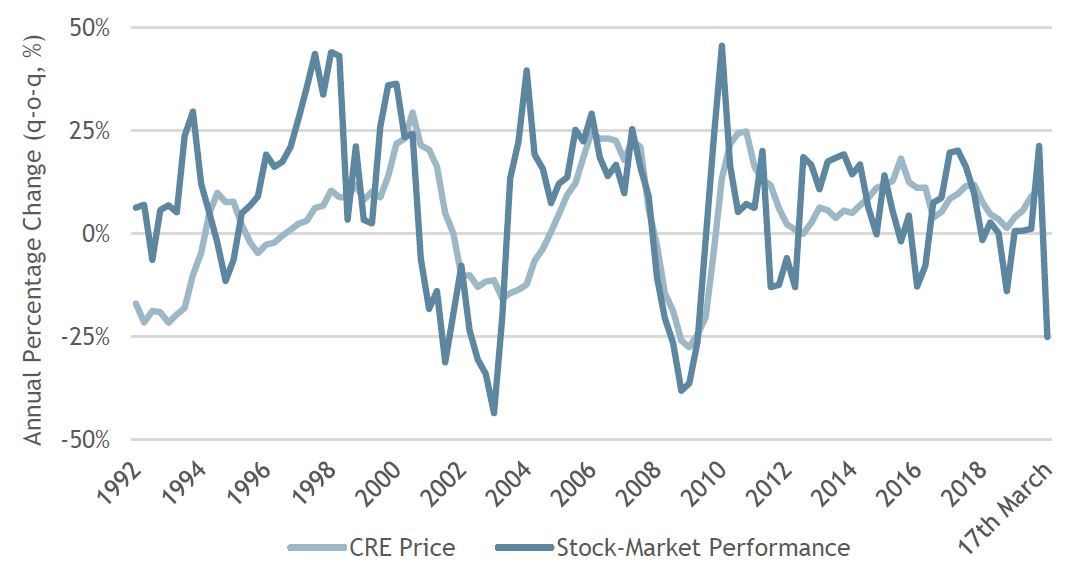 Sources: AEW, CBRE & Bloomberg
READ THE FULL REPORT
The information and opinions presented in this research piece have been prepared internally and/or obtained from sources which AEW believes to be reliable; however, AEW does not guarantee the accuracy, adequacy, or completeness of such information.