SURFING THE ON-LINE WAVE IS NOT THE ONLY THING FOR LOGISTICS
On-line retail penetration rate in Europe averaged 6.4% in 2018 and is expected to increase to 8.8% by 2022. With the shift towards online retailing still showing potential growth, demand for logistics is set to remain solid across Europe.
On-line sales has driven demand for both XXL and big box warehouses as well as the increased need for mid-size units. This is due to the greater need for parcel delivery has shifted part of the demand closer to urban areas.
Our forecasts show no evident correlation so far between on-line sales growth and logistics rental growth. But with vacancy rates at their lowest across Europe, owners have more leverage to negotiate more favourable rents.
Logistics rental growth is clearly not just driven by the wave in on-line retail sales. Other factors such as the continued focus on cost optimization of the retail supply chain and the availability and cost of logistics space also play a role.
With occupier demand remaining solid, European industrial and logistics investment volume tripled in the last five years (2014-2018), compared to the previous five-year period (2009-2013).
With increased competition for existing assets, investors also view development as a value-add alternative.
LOGISTICS RENTAL GROWTH DRIVEN BY MORE FACTORS THAN JUST ONLINE SALES GROWTH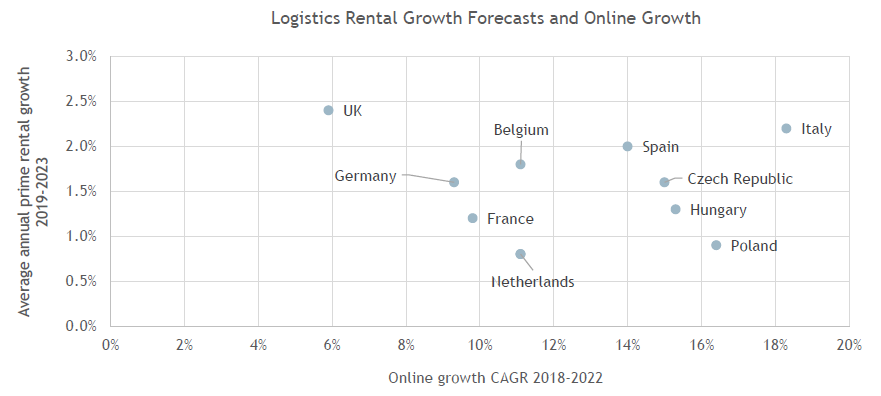 Sources: AEW & Global Data
The information and opinions presented in this research piece have been prepared internally and/or obtained from sources which AEW believes to be reliable; however, AEW does not guarantee the accuracy, adequacy, or completeness of such information.