How is European retail going to face its challenges?
The European retail sector is facing challenges as some high profile retailers are closing stores or even going out of business both in the UK and across Continental Europe. Many of these problems seem tied to the continued rapid growth of on-line retail sales at the expense of conventional in-store retail sales. The UK leads Europe in on-line sales with nearly 20% of all retail sales via on-line platforms. These problems might further intensify if the economic recovery slows or even reverses in the future. In this report, we take a closer look at both consumer and retailer trends as well as their impact on rents and capital values. As part of this "deep-dive" into retail, we take a closer look at new footfall statistics (using mobile app data) and cluster patterns in historical transaction data across European city center retail markets.
GROWTH IN RETAIL SALES DOMINATED BY E-COMMERCE (2017 v. 2016)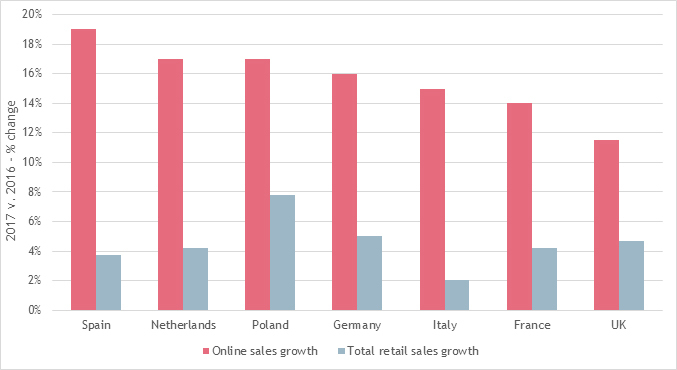 Source: Center for Retail Research, Oxford Economics & AEW Research 2018
EXECUTIVE SUMMARY: INNOVATE TO MEET E-COMMERCE CHALLENGE
The exciting growth in online sales is a major structural change profoundly impacting the global retail industry. This has resulted in negative news headlines in the US, UK and Germany in particular, with store closures and insolvencies for retailers unable to adjust to the new consumer requirements for omni-channel and experience-focused shopping.
E-commerce sales penetration rates are already high in the UK and Germany, which explains in part why UK retailers share prices have suffered. But, it also leaves other countries like France, Spain and Italy to catch up, challenging traditional retailers in these markets to adjust to these new consumer dynamics.
However, the positive outlook for the European consumer and the much lower supply of retail space per capita compared to the U.S. should limit the magnitude of the impact of e-commerce for most European retail markets compared to the U.S.
This expectation is also confirmed by our latest forecasts for market rental growth. In fact, prime high street retail rental growth is expected to outperform both shopping centers, offices and logistics over the next five years.
However, total returns for retail are below the other property types due to the larger impact from rising bond yields in the next five years. In this more challenging investment environment, investors can future proof their retail strategies with innovative business practices, including new data sources and analytics.
We include two such approaches: (a) footfall analysis of benchmark prime high streets; and (b) new clustering analysis, which allows the identification of micro-markets with long term investor focus and price stability.
The information and opinions presented in this research piece have been prepared internally and/or obtained from sources which AEW believes to be reliable; however, AEW does not guarantee the accuracy, adequacy, or completeness of such information.