Logistics was the most attractive sector in our last quarterly report, triggering this closer look at the broader European markets with a special focus on a new big data application and the post-Brexit UK market.
Our four-criteria market analysis of the 30 most liquid logistics markets ranks secondary western European regions, such as Eindhoven, Lille and Portsmouth ahead of other western European and high growth CEE markets.
Take-up is expected to remain strong, despite breaking historical records, as fundamental drivers are structural:
- E-commerce penetration as a % of retail spending will increase as the economic recovery spreads across Europe
- The shift to outsourced and streamlined supply chain processes across Europe is expected to continue
- Affluent and densely populated regions will show the biggest positive impact on logistics space demand from growth in retail and e-commerce spending
New development has picked up, with vacancy at historical lows in many markets, but our outlook remains favourable:
Development is targeting the lowest vacancy markets in general, showing good discipline
The share of speculative supply remains modest and land-rich developers are mostly focused on build-to-suit
LOGISTICS ACROSS THE EUROPEAN PROPERTY UNIVERSE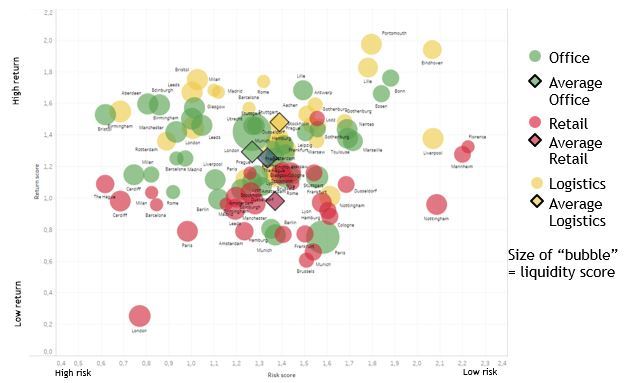 Source: AEW, CBRE, RCA & RES
The information and opinions presented in this research piece have been prepared internally and/or obtained from sources which AEW believes to be reliable; however, AEW does not guarantee the accuracy, adequacy, or completeness of such information.