Over the last few years, institutional investors have increased their exposure to non-traditional or alternative property types, which represented 14% of total direct real estate investment volumes in Europe in the first half of 2018.
Senior housing and student housing offer an attractive yield premium of 150bps over standard residential investments, while benefiting from the same defensive character.
New data mining methodologies allow investors to better identify micro locations where supply-demand imbalances are offering the most attractive opportunities in the student and senior housing sectors.
Student housing in France is seeing a big increase in new supply, while some changes in the educational system might limit new demand and increase turnover.
Senior housing offers attractive investment opportunities to investors due to strong demand fundamentals, high occupation rates, low occupier turnover and a diversified revenue model for the operator.
Existing German senior housing has so far focused more on a higher level of medical care, which might leave more room for lower care and more affordable alternatives in future.
SENIOR & STUDENT HOUSING OFFER A YIELD PREMIUM OVER STANDARD RESIDENTIAL IN FRANCE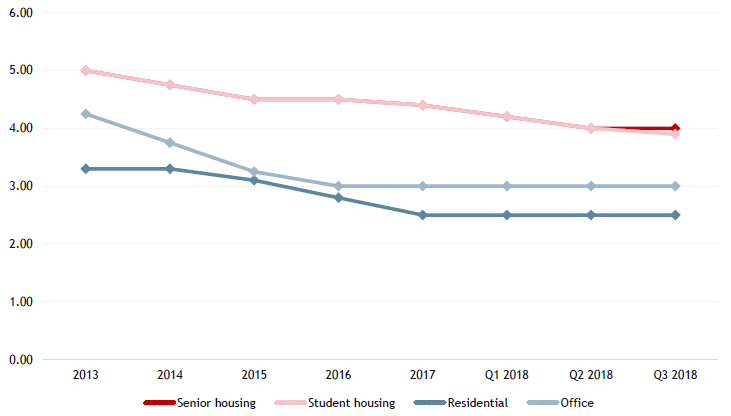 Sources: JLL, CBRE & AEW Research
The information and opinions presented in this research piece have been prepared internally and/or obtained from sources which AEW believes to be reliable; however, AEW does not guarantee the accuracy, adequacy, or completeness of such information.