This report highlights the strong demand fundamentals of this maturing property type, as well as its attractiveness for investors. Indeed, Independent Senior Living combines the benefits of residential investments (stable income streams, low correlation with economic cycles) with the benefits of commercial real estate (long, triple-net commercial lease to a single operator). The report also underlines the differences in the Independent Living concepts across Europe.
This report focuses on independent senior living, where typically a professional operator leases the entire property from an investor and residents sublet each unit with a range of services from the operator. Services (catering, cleaning, shopping, hairdressing) and social activities are proposed on a pay-as-you-go basis - residents only pay for the services they need. On-site staff (5 to 20 employees depending on the operator and size) assist residents, manage the residence and provide a secure environment.
Senior housing for autonomous seniors or independent living is distinct to care homes and assisted living which offer medical care and assistance for activities of daily living. Independent living residents are typically aged between 75 and 85 year-old. Independent living is known in France as Résidences Services Séniors. In Germany, Betreutes Wohnen tend to offer a higher level of medical care. In the UK, most private senior housing concepts are currently for sale and not for rent.
Independent living offers attractive investment opportunities to investors due to strong demand fundamentals, high occupation rates, low resident turnover and a diversified revenue model for the operator.
Independent living combines the benefits of both residential & commercial real estate investments:

Senior housing yields are attractive at 4.0–5.0% compared to standard residential (+150-200 bps yield premium)
Triple-net commercial lease to a single operator
Long leases of 10-25 years
Low correlation to economic cycles
Downside protection with potential conversion into standard residential
Independent living represents a socially responsible and sustainable investment as operators provide a range of services & activities to cater for the evolving needs of senior residents. Senior housing is also a build-to-suit accommodation benefiting from the latest environmental standards.
INDEPENDENT SENIOR LIVING OFFERS A YIELD PREMIUM OF 150-200 BPS OVER STANDARD RESIDENTIAL - FRANCE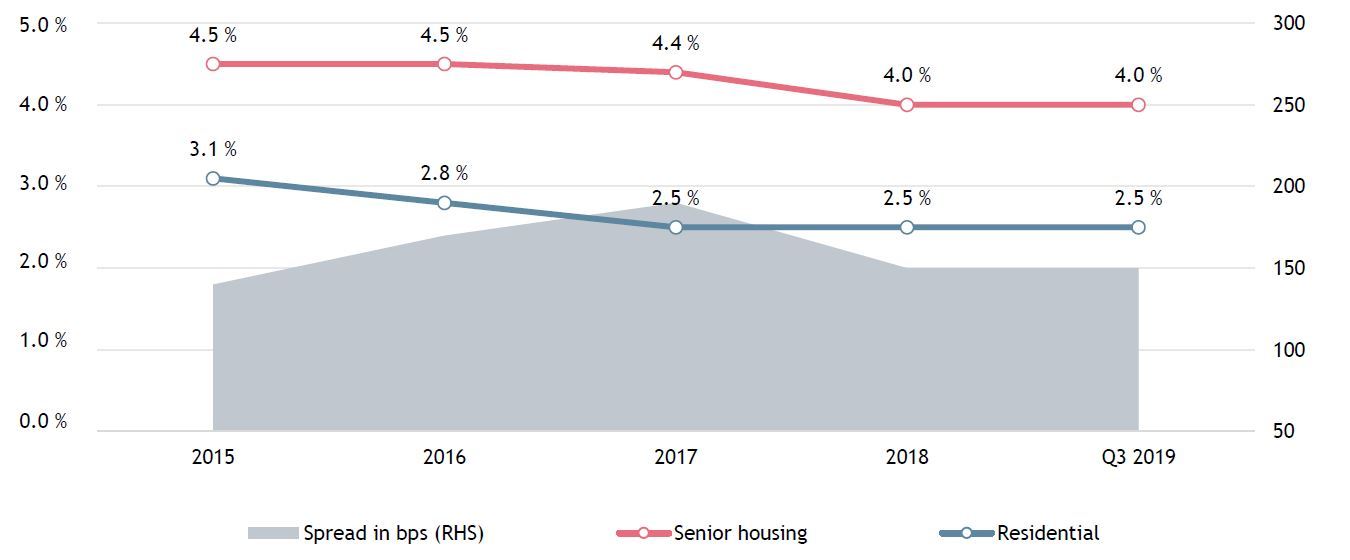 Sources: CBRE & AEW
The information and opinions presented in this research piece have been prepared internally and/or obtained from sources which AEW believes to be reliable; however, AEW does not guarantee the accuracy, adequacy, or completeness of such information.